Things You Never Knew About Boise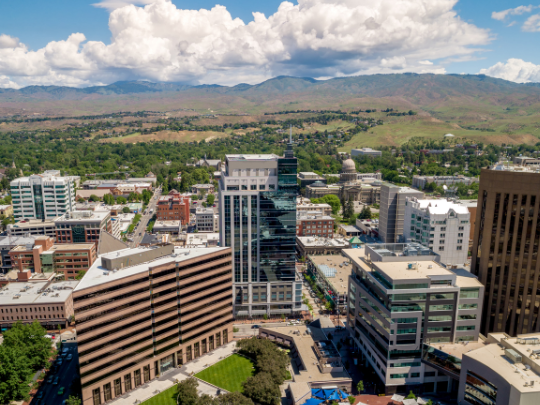 When you think of Boise, what typically comes to mind? Potatoes, perhaps? Sure, Boise is sometimes referred to as the potato capital city. But there's a lot more to Boise than you might think. Let's take a look at some of the lesser known facts about this great city.
CITY OF TREES
Boise is nicknamed The City of Trees. This place is surrounded by over 4.7 million acres of forest, which is greater than the three smallest U.S. states combined. The city's natural surroundings make Boise a desirable place for nature lovers to live.
IDAHO POTATOES
Alright, so there is more to this potato thing. In fact, Idahoans are particularly proud of their produce of choice. This staple of the American dinner plate is highly celebrated. On New Year's Eve, a giant glowing potato is dropped every year outside the state capitol building to thunderous cheers and a familiar song.
BOISE BASQUES
Have you ever heard of Basque? It's an ethnic characterized by the Basque language, and it's steeped in rich culture and traditions. They are also most notably found in Idaho. In fact, Boise and the surrounding area has the largest Basque population anywhere in the world next to Spain.
From clothing and food to dance, Basque history is compelling. Learn more about the Basque culture by visiting the Basque Museum or the Basque Block, a cultural epicenter in Boise, featuring shops, festivals, and places to enjoy their unique cuisine.
HEAD HONCHOS
Corporate America is spread throughout the country. There are obvious business heavyweights in cities like New York, Chicago, and Los Angeles. However, Boise is home to some big names in business too, including Albertsons, WinCo Foods, Simplot, Micron, and Clearwater Analytics.
BREAKING BOISE
Any fans of the hit TV show Breaking Bad out there? Well, it so happens that actor Aaron Paul graduated from Centennial High School in 1998, right here in Boise. Fun fact: when the series was coming to a close during the final eight episodes, Aaron created a scavenger hunt throughout the city just for the fans.
BOISE BATHING
One of the unique and fascinating facts about Boise and the surrounding area is that it is the largest geothermal system in the entire country. Starting from a fault line at the base of the Boise foothills, water tops out at 170 degrees and snakes through pipes beneath the streets of downtown Boise. The system is also the sixth largest in the world, according to city officials. The system heats 6 million square feet of buildings in the winter.
One of the buildings to benefit from this natural heating system is the famous Hotel 43 in the downtown area. Hotel 43 is a landmark and one of the best boutique hotels in Boise, Idaho.
Now that you know a little more about Boise, Idaho, your trip planning should wrap up nicely. Book your exciting trip to Boise today and stay at Hotel 43!