Welcome to Hotel 43
A Boutique Downtown Boise Hotel
Hotel 43 is Idaho through and through. Located on the 43rd parallel in the 43rd state (if you ever wondered how we came up with our name), Boise's "Original Boutique Hotel" is uniquely inspired by the city and state we proudly call home. We celebrate downtown Boise's surprisingly arty side by adorning our spaces with works by local talent. Hit us at the right time and you'll find us hosting artistic events throughout the city. You can also come by any time for free passes to the Boise Art Museum.
At Hotel 43, you'll be inspired by the rich culture, rugged charm, and contemporary energy of downtown Boise waiting at your doorstep.
About Us
Our name celebrates Idaho's ratification as the 43rd state in 1890. The fact that we're also on the 43rd parallel is just a lucky coincidence. We'll connect you to the area like no other hotel can, whether you've come to get lost in Boise's great outdoors or to take part in downtown's more urban adventures.
Where You'll Stay
Urban chic guestrooms and suites are decked out in classic-contemporary style, with a bathrobe-clad teddy bear waiting to greet you when you arrive. You'll think he's adorable, but please don't tell him that. His head's already big enough!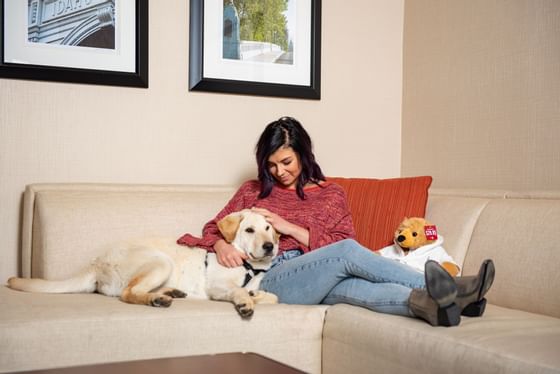 What You Get
We've got style and plenty of substance, too! Breeze to and from Boise Airport with free shuttle service. Our pet-friendliness means both you and your furry companion can romp in Boise's open spaces and hiking trails that meander up into the hills. Flexibility matters — we offer a fitness center and Grab & Go food items, available 24/7.
Eats & Drinks
If your idea of adventure is a thick, juicy steak and perfectly mixed martinis, then Chandlers Steakhouse is the place for you! Boise's only Forbes-rated restaurant and one of the top steakhouses in all of Idaho isn't just right next door, it's connected to the hotel.
What's Nearby?
It's better to ask what isn't! Find yourself just steps from fashionable shopping, award-winning restaurants and popular sights like the Boise Convention Center, Jack's Urban Meeting Place and the Idaho Central Arena.