Biking in Boise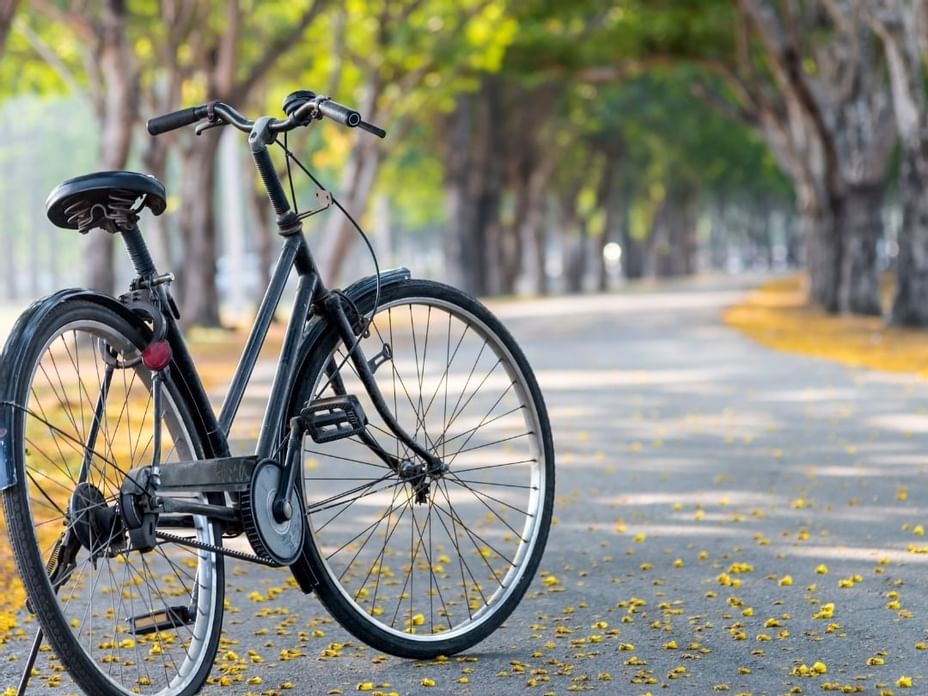 Biking is such an enjoyable pastime with an abundance of health benefits. You can keep up with your fitness or just go for a leisurely ride, and in Boise, the trip will be stunning.
Beginning this year on May 15th, Hotel 43 will offer its guests complimentary bike rentals. You can bike downtown Boise, the Boise biking trails, the greenbelt bike trails, and experience Boise in style on flashy red bikes during your stay at Hotel 43.
Guests love the chance to experience Boise on bikes, and you will too. If you are ready to explore the "city of trees", then biking Boise is a lovely way to take in the sights and enjoy the scenic views.
Biking Boise
You have plenty of options for biking Boise this summer. Boise is a cyclist-friendly city. You can cruise the streets safely in downtown Boise and throughout the city with bike lanes found on almost every street.
With the summer season upon us, you can enjoy open patios downtown Boise while you bike your way through happy hour. If you happen to be biking through on the first Thursday of every month, it is Boise's tradition that local businesses and restaurants offer free tastings. Locals and tourists alike can partake in the offerings.
Greenbelt Trails
For more scenic options, you can pack a lunch and roll along the Boise Greenbelt, a beautiful river path that stretches all throughout the Treasure Valley. It will take you along the Boise River next to Boise State University's campus.
Boise Mountain Biking
For the more daring cyclists, Boise mountain biking is an excellent adventure. At about a 45-minute drive from downtown is Bogus Basin, located in the Idaho mountains. You can bike the mountain trails that are also used as ski trails in the winter. Boise has many locations to rent a mountain bike for the day.
BOISE BIKING TRAILS
There is no short supply of trail options in Boise, like the greenbelt trail and the trails behind the penitentiary that take you around Boise's foothills. There is so much to explore that you may have to come back! For more information on Boise biking trails, including detailed maps and current trail conditions, you can visit Boisetrails.com.
YOUR BIKING ADVENTURE STARTS AT HOTEL 43
If biking Boise sounds like a delightful way for you to take in all the sights this city has to offer, enjoy Hotel 43's complimentary bike rentals by asking at the front desk. Your stylish red bike rental includes a helmet, bike lock, and basket. We'll supply you with everything you need to enjoy Boise, safely and comfortably.
THE STAFF AT HOTEL 43 CAN HELP
Want to rent a bike, but you're unsure of where to go for the best Boise mountain biking or what to do downtown Boise? No problem! You can consult with our friendly, knowledgeable Hotel 43 staff who are always available to help you plan the perfect ride throughout the nation's 43rd state.
Cruise through summer, and book your vacation at Hotel 43 today!